Watch Our Video
Our interactive video to discover: how you hear, what you need to know about hearing loss, diagnosis and treatment.
Click Here
Download Guide
Download our Guide to Better Hearing to review what you need to know about the process of improving your hearing.
Click Here
Schedule An Appointment
Schedule a no-obligation appointment with one of our highly trained professionals to start your journey to better hearing.
Click Here
Testimonials
I've been coming to Lynn for over 25 years. With the new digital technology she is able to match each hearing aid to my hearing loss. I've just really enjoyed coming here. It's the end result that makes East End Hearing the best of the best
- Joan
Our Location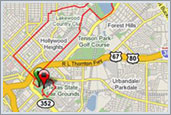 Click Here for Directions
What to Expect at Your Hearing Test
If you suspect you are dealing with hearing loss, one of the first steps in determining the best course of action is to have a hearing test performed by a qualified audiologist. These hearing specialists will determine what type of hearing loss you are experiencing and which hearing devices would best help. As you prepare for your hearing test, here is what you can expect.
The test will begin with a conversation outlining your thorough medical history and the history of your hearing loss. Expect the hearing aid provider to ask questions about noise exposure, ear surgeries, ear diseases, heredity and medications you are taking.
Next, the specialist will test the movement of the eardrum using tympanometry, a process using a handheld tool. For this part of the test, you will not have to do anything. Tympanometry is typically followed by headphone testing. For this test, you will sit in a soundproof room or booth wearing a set of headphones. The test administrator will send various frequencies and sounds to each of your ears, and you will indicate when you can hear them.
Finally, the specialist will perform a bone conduction test. This painless test stimulates the bones of your skull, which should trigger a sound. The level at which you can hear this sound will indicate whether or not your hearing loss is affected by your inner ear.
Once the hearing test is complete, the audiologist will compile the results, study them and then explain them to you. At this point, if hearing aids would be beneficial, the specialist will discuss your options with you. You will leave from your test with a plan for dealing with your hearing loss and solid hearing aid advice to consider as you begin taking steps to restore your hearing.