Watch Our Video
Our interactive video to discover: how you hear, what you need to know about hearing loss, diagnosis and treatment.
Click Here
Download Guide
Download our Guide to Better Hearing to review what you need to know about the process of improving your hearing.
Click Here
Schedule An Appointment
Schedule a no-obligation appointment with one of our highly trained professionals to start your journey to better hearing.
Click Here
Testimonials
I've been coming to Lynn for over 25 years. With the new digital technology she is able to match each hearing aid to my hearing loss. I've just really enjoyed coming here. It's the end result that makes East End Hearing the best of the best
- Joan
Our Location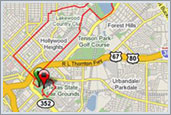 Click Here for Directions
Styles
Styles of hearing aids include: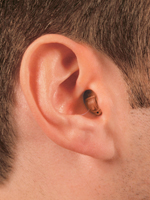 Completely-in-the-canal style hearing aids (CIC): these are the smallest and most cosmetically discreet. The CIC instruments fit completely in the canal and are custom-made. There is a clear nylon string to help with insertion and removal. They are powered with a #10 hearing aid battery.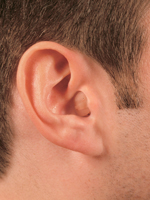 In-the-Canal style hearing aids (ITC): these are larger than the CIC devices. They fit within the ear canal and are custom-made. They are powered with a #312 or #10 hearing aid battery.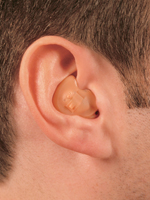 In-the-Ear style hearing aids (ITE): these are larger than the ITC style. They fit in the ear, filling the entire "bowl" of the ear. They are custom made. The customization along with the lightweight and compact size makes these instruments comfortable and easy to manage. They are powered by a #13 or #312 battery.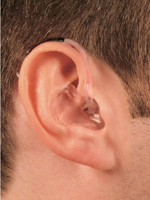 Conventional Behind-the-Ear style hearing aids (BTE): the processing components are housed in a case that fits behind the ear. Sounds enter the instrument, are amplified, and travel through a tube that is contoured over the top of the listener's ear and into an earmold inside the ear. BTEs are durable, easy to handle and maintain, and can be easily adapted for use with the wide variety of assistive listening devices. They are powered with a #675 or #13 battery.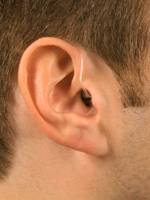 Open-Fit and Receiver In the Canal Behind the Ear Style: These are similar to the conventional BTE but are much smaller, making them more discreet. A very small tube leads to the ear canal making this option much more cosmetically appealing while offering superior sound quality.
Typical costs of hearing aids:
Premier Digital Technology Hearing Aids: $3495 to $3745 each
Advanced Digital Technology Hearing Aids: $2795 to $3245 each
Mid-Level Digital Technology Hearing Aids: $$2495 to $2745 each
Entry Digital and Analog Technology Hearing Aids: $1500 to $2245 each
Are there different styles of hearing aids?
There are three basic styles of hearing aids. The styles differ by size, their placement on or inside the ear, and the degree to which they amplify sound.
Behind-the-ear (BTE) hearing aids consist of a hard plastic case worn behind the ear and connected to a plastic earmold that fits inside the outer ear. The electronic parts are held in the case behind the ear. Sound travels from the hearing aid through the earmold and into the ear. BTE aids are used by people of all ages for mild to profound hearing loss.

A new kind of BTE aid is an open-fit hearing aid. Small, open-fit aids fit behind the ear completely, with only a narrow tube inserted into the ear canal, enabling the canal to remain open. For this reason, open-fit hearing aids may be a good choice for people who experience a buildup of earwax, since this type of aid is less likely to be damaged by such substances. In addition, some people may prefer the open-fit hearing aid because their perception of their voice does not sound "plugged up."


Canal aids fit into the ear canal and are available in two styles. The in-the-canal (ITC) hearing aid is made to fit the size and shape of a person's ear canal. A completely-in-canal (CIC) hearing aid is nearly hidden in the ear canal. Both types are used for mild to moderately severe hearing loss.

Because they are small, canal aids may be difficult for a person to adjust and remove. In addition, canal aids have less space available for batteries and additional devices, such as a telecoil. They usually are not recommended for young children or for people with severe to profound hearing loss because their reduced size limits their power and volume.