Watch Our Video
Our interactive video to discover: how you hear, what you need to know about hearing loss, diagnosis and treatment.
Click Here
Download Guide
Download our Guide to Better Hearing to review what you need to know about the process of improving your hearing.
Click Here
Schedule An Appointment
Schedule a no-obligation appointment with one of our highly trained professionals to start your journey to better hearing.
Click Here
Testimonials
I've been coming to Lynn for over 25 years. With the new digital technology she is able to match each hearing aid to my hearing loss. I've just really enjoyed coming here. It's the end result that makes East End Hearing the best of the best
- Joan
Our Location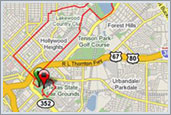 Click Here for Directions
East End Family

Jennifer Piccolo joined our staff in September 2011, and became our Front End Manager in February 2012. Jenn is responsible for welcoming patients to our Practice, scheduling appointments and managing patient follow-up. She has a terrific sense of humor; you'll always be greeted with a smile and you'll find she loves to laugh.
Jenn is a long time resident of the neighboring community of Sound Beach, where she lives with her husband and teenaged son. They are very active in local baseball. Jenn also has a daughter, who is a Pediatric Occupational Therapist in Indiana. Jenn's hobbies include reading, gardening, and spending time with her family.

Patti Gleason is a longtime member of our staff, and has been with us since 1996. She spent her early years at East End as a Front Office Receptionist, and is now our Billing Manager. Patti's responsibilities include claims billing and follow-up, and bookkeeping data entry. On occasion, we find her up in the Front Office helping out.
Patti is very warm and patient- oriented, and is always willing and able to answer questions or address concerns regarding hearing health insurance benefits and hearing aid coverage. We are certain you will find Patti to be a breath of fresh air, in light of her friendly and bright personality.
Patti resides in Holbrook with her husband and 3 teenaged daughters. Much of their free time is spent traveling, and vacationing with family. Patti is regularly involved in her church functions, and also enjoys going to watch her N.Y. Yankees play ball.