images/banner1.png
images/banner2.png
images/banner3.png
Hearing Aids on Long Island
East End Hearing was founded over 25 years ago to help Long Island residents get more from a local hearing care provider. Located centrally on Long Island in Port Jefferson Station NY, East End Hearing continues the tradition of better hearing through education, technology, and customer service. To get the most out of your visit today, start by watching our interactive video on hearing loss and hearing aids, then download your free Guide to Better Hearing, and after that schedule an appointment with us to discuss your personal situation and how East End Hearing can help you. We look forward to seeing you soon.
Our Services

We are a full service practice that offers the following services:

Hearing Aid Sales
Hearing Aid Repairs

Hearing Testing
Hearing Aid Evaluations






Ready to Provide Hearing Loss Solutions

If hearing loss has been troubling you, it's time to do something about it! In addition to our regular office hours, East End Hearing is online to serve you 24 hours a day through our website, which we have built to educate and inform you.



Our Location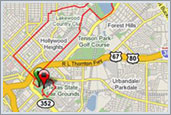 Click Here for Directions
Testimonials
I've been coming to Lynn for over 25 years. With the new digital technology she is able to match each hearing aid to my hearing loss. I've just really enjoyed coming here. It's the end result that makes East End Hearing the best of the best
- Joan
Watch Our Video
Our interactive video to discover: how you hear, what you need to know about hearing loss, diagnosis and treatment.
Click Here
Download Guide
Download our Guide to Better Hearing to review what you need to know about the process of improving your hearing.
Click Here
Schedule An Appointment
Schedule a no-obligation appointment with one of our highly trained professionals to start your journey to better hearing.
Click Here