Watch Our Video
Our interactive video to discover: how you hear, what you need to know about hearing loss, diagnosis and treatment.
Click Here
Download Guide
Download our Guide to Better Hearing to review what you need to know about the process of improving your hearing.
Click Here
Schedule An Appointment
Schedule a no-obligation appointment with one of our highly trained professionals to start your journey to better hearing.
Click Here
Testimonials
I've been coming to Lynn for over 25 years. With the new digital technology she is able to match each hearing aid to my hearing loss. I've just really enjoyed coming here. It's the end result that makes East End Hearing the best of the best
- Joan
Our Location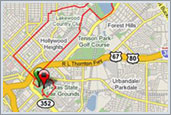 Click Here for Directions
Check Back Soon for Special Offers!