Watch Our Video
Our interactive video to discover: how you hear, what you need to know about hearing loss, diagnosis and treatment.
Click Here
Download Guide
Download our Guide to Better Hearing to review what you need to know about the process of improving your hearing.
Click Here
Schedule An Appointment
Schedule a no-obligation appointment with one of our highly trained professionals to start your journey to better hearing.
Click Here
Testimonials
I've been coming to Lynn for over 25 years. With the new digital technology she is able to match each hearing aid to my hearing loss. I've just really enjoyed coming here. It's the end result that makes East End Hearing the best of the best
- Joan
Our Location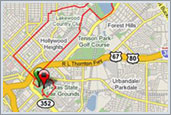 Click Here for Directions
RIC Hearing Aids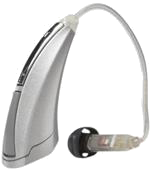 One of the superior modern innovations in behind the ear (BTE) hearing aids is the receiver in the canal hearing instrument. This digital hearing device is one of the most discreet units available. These devices are also often called receiver in the ear (RITE) aids, these digital hearing instruments are noted to improve perceived sound quality over similar open-fit BTE aids. If you are interested in hearing better with style, RICs may be right for you!
Comparable to the customary and open-fit BTE models, RICs sit on the top of the outer visible portion of the ear. RICs are low profile, sleek, and discreet BTE options. Unlike their open-fit and customary counterparts, RICs are not coupled to an ear piece by means of thin, long tubing and the speaker system is not located in the section of the aid that sits on top of the ear. With RICs the speaker system is positioned inside of a small dome tip or custom ear piece that sits in the outer ear canal. The receiver is connected to the aid behind the ear by means of coated wiring. Deeper placement of the speaker system in the outer ear canal is one of the reasons for improved, more natural sound quality!